Measured building surveys utilise some of the more traditional approaches to building surveys while also using some of the latest technology. Here is everything you need to know about a measured building survey.
What is a Measured Building Survey?
A measured building survey provides the most accurate representation of a building, which allows you to better see the various architectural and structural elements of the property. In general, a measured build survey will consist of three separate elements:
A floor plan is a view of a house or building looking down from the ceiling. A floor plan survey of a property will show a variety of detail including interior and exterior walls, structural elements, windows, doors, stairways, beams, skylights and all their associated heights. 
Sometimes the requirement for fixtures is requested by the consultant. These can consist of permanent objects such as kitchens, toilets and sinks and in some cases plumbing and electrical fixtures. Roof plans can also sometimes be requested.

Cross Section drawings will show a view of the property as if you have sliced through it and looked in from the opening. The number of cross sections required is depending on the size and shape of the building. Cross sections should show windows, stairs, doors and beams relative to their position within the interior walls along the sliced line.
Dimensions of floor to ceiling, head and cill heights of windows and head heights of doors should also be represented on these drawings.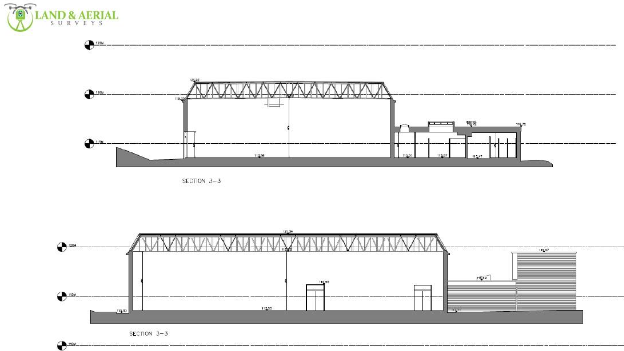 An elevation is a drawing showing a particular view from the side or front of the property.
While an elevation drawing is not always a requirement, they can be very helpful when designing an extension and to view the particular property in relation to the those surrounding it.
Generally, only 4 elevation drawings are required unless the property has a complex layout and the likes of internal courtyards etc.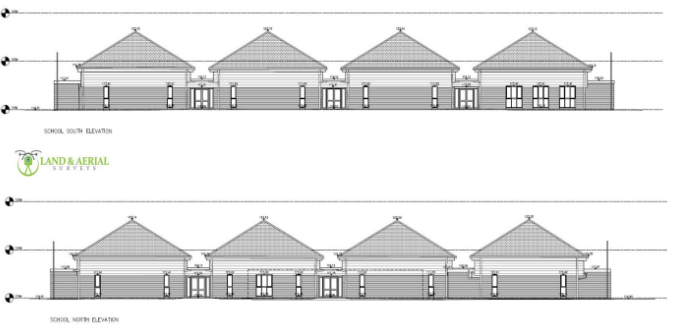 Why Are Measured Building Surveys So Important?
Measured building surveys are typically used for the redevelopment of a property and are also used to archive historical buildings. 
These surveys are done following RICS guidance notes, ensuring that everything is done as it should be. 
As technology has advanced, more accurate tools for measuring have become available such as laser scanners and total stations.
Land and Aerial Surveys use a combination of GNSS, total station and trimble X7 Laser scanning instruments to obtain a millimeter accuracy for all surveys. 
You can gain so many benefits by using the latest technology to provide measured building survey:
Cost-Effectiveness:

Reduce the number of errors from manual measurements. Scanning your project will prevent having to redo work, and adjust plans and rejections from the planning department. The costs of these mistakes really do add up.
Accurate Records:

Through a measured building survey, you can get accurate information to put on record. This will make any future work on the property easier since you already have all the essential information to hand.
Better Planning:

The accurate floor plans offered by these surveys are essential during the planning and design phase of the project. You can get the information needed to foresee any potential issues in your design, long before any work is started on the project.
What are the typical Costs for Measured Building Surveys?
It is essential that the client knows exactly what they are looking for when seeking a quote for a measured building survey.
It is important that a specific level of detail required is given to the surveying company so they can generate an appropriate cost. Some architects or consultants may not require a complete survey and this will hugely reduce the cost.
A measured building survey can vary in price, depending on several factors including:
The size of the property to be surveyed.

Accessibility to the site; if the premises are currently empty 

How much detail do you need for the survey?

Delivery of the project; whether it be in 2d (dwg) or a 3d Revit model
Measured building surveys are the perfect solution to ensure that your next project runs as smoothly as possible.
Using the most effective approach to any type of survey will ensure the best and most accurate results for your project.
Land and Aerial Surveys Ireland has nearly two decades of experience with a variety of different types of surveys, using the latest technology available. If you would like to learn more about these measured building surveys, contact us today.